Our History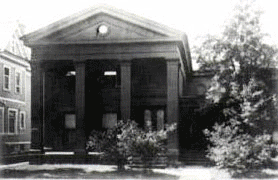 Located on the National Historic Register, the house was built in 1855. The original style was Greek Revival with four two story square columns and arched windows and doors. Through the years, Rosewood Inn has retained the charm of the Victorian Era.
The proximity of the house to Corning Hospital led to its ownership by doctors. From 1907 through 1979 it was owned by physicians who lived, raised their families and practiced medicine here.
About 1917 both the interior and the exterior were renovated into what was the then popular English Tudor style, remaining so today.
In 1980 the professional rooms on the ground floor became bedroom suites. The entire house was restored to its Victorian splendor as a bed & breakfast inn by the Richard and Winifred Peer.
In the autumn of 1991, Stewart and Suzanne Sanders came from East Brunswick, New Jersey to Corning, New York.  They fell in love with the area and in April of 1992, they purchased Rosewood Inn.
Innkeeper Suzanne Sanders invites you to come and celebrate all the area has to offer.