Inn-side……….
Begin your days with a relaxing Continental breakfast, served community style in an elegant antique paneled candle-lit Victorian dining room. You will enjoy fresh fruit, juice, cereal, granola, yogurt, eggs, cheeses, breads or muffins of the day. To insure a pleasant stay, we ask that you make us aware of any allergies or dietary restrictions.

Coffee & Tea are available in the parlor at 7:30 am.
Breakfast is served starting at 8:30 am.
We hope that our schedule fits into your traveling plans.
If it does not, please let us know, so that we can make arrangements accordingly.
Discover Rosewood's gracefully restored, elegantly-furnished rooms with oriental rugs, fine antiques, authentic wallpapers and period draperies. The sitting room with antique Cooper rockers is the perfect place for relaxing and television viewing.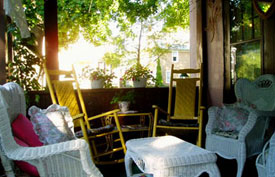 The summer side porch is a great place for your first cup of morning coffee, refresh yourself with an afternoon lemonade, or sample the lovely bottle of wine that you purchased while touring Finger Lakes Wine Country.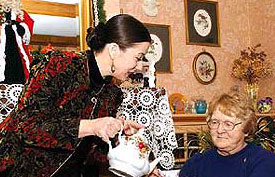 During the winter months we welcome you home with tea and cookies in the parlor. Come sit at the fireside to warm up after your travels!